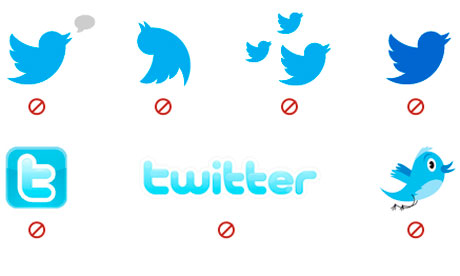 [Y]ou must not manipulate the bird!

via No flipping the bird! Twitter unveils strict usage guidelines for new logo
So says social media company Twitter.  In an announcement last week, Twitter asked its users to obey its trademark usage policy, to the tune of a graphically enhanced set of guidelines.
But users shouldn't really be surprised by this.  Trademark owners MUST, I repeat MUST, monitor usage of their mark portfolio to this degree or otherwise risk losing protection.  So to the author of the article and those that complain about the new guidelines: don't blame Twitter, blame the law.  Twitter is just doing what is necessary under the law and, to be honest, I am surprised they didn't institute guidelines like this sooner.
If you want to compare and contrast Twitter's policy with those of other cool and happenin' companies, see here for Facebook, here for Starbucks and here for Apple.
Take a look at those policies and tell me if they are realistically doing anything that Twitter isn't asking of its users.  Go on…I'll wait… Continue reading →